Synopsis
B4U step into the kitchen with expert Chef Atul Kochhar. Learn how to make most authentic dishes in simplified steps.

GET YOUR TASTE BUDS READY….
FOR THE RETURN OF THE CULINARY BONANZA
BACK BY POPULAR DEMAND
ROYAL SWEETS presents CURRY ON with Atul Kochhar
Michelin starred chef returns to make your mouth water with the most unique and delicious cuisine with simple instructions on how to prepare these scrumptious dishes yourself !
Masala, Movies and music… Join us as we invite a celebrity guest to step into the kitchen and learn the art of cooking !
Watch, Learn and Create!
Tweet us your recipe requests @CurryOnwithAtul !
Tune in to CURRY ON for your gateway to the world of exquisite flavour and taste made easy!
Join our celebrity chef, Mr. Atul Kochhar
Atul Kochhar has quite simply re-invented Indian cuisine. His unique talent as a twice Michelin Starred Chef has changed the way people perceive and experience Indian food. Atul was the very first Indian Chef to receive a Michelin Star during his time at Tamarind. He then went on to create the world renowned Benares Restaurant where his creative talents did not go unmissed and he went on to win his second Michelin Star in 2007. His incredible ability to create such unique and rare dishes from all parts of the world has formed the highly successful Benares Restaurant. Jan Moir wrote in The Daily Telegraph: "Benares is notable for the outstanding quality of the ingredients that the kitchen uses and the abundance with which they are served." He instantly shot to fame and has maintained this high level of Indian cuisine throughout the last few years.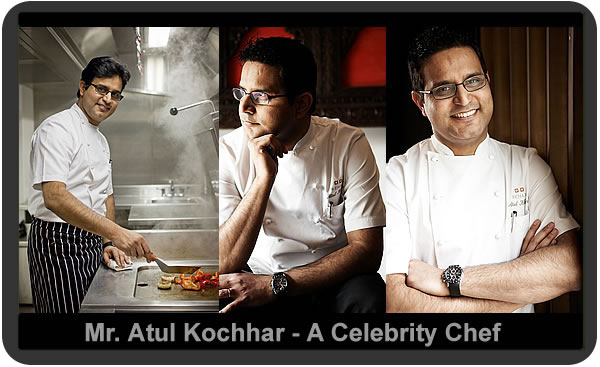 Atul started his cooking career at The Oberoi group of hotels in India. In June 1993 he graduated to the five star deluxe Oberoi Hotel in New Delhi. Here Atul worked as a Sous Chef in one of the five restaurants in the hotel. Atul then moved to the fine dining restaurant of Bernard Kunig. In November 1994, Atul moved to London to open Tamarind and in January 2001, he was awarded his first Michelin star.
This saw Atul publish the follow up to his hugely successful debut recipe book Indian Essence. In Fish, Indian Style, Atul presents recipes using every variety of fish, spiced in the Indian style for which he is so renowned for. Atul is also currently in the process of writing his third and due to be his most outstanding book to date: 'Curries of The World', due to be published in 2012. Atul also opened Ananda in October 2008 – meaning eternal joy –, which is situated in the Dundrum Town Centre on the beautiful outskirts of Dublin.
Atul has featured in numerous television series, most recently including the second series of Masterchef Goes Large and BBC2's Great British Menu series one, two and three. The third being shot during Spring 2008.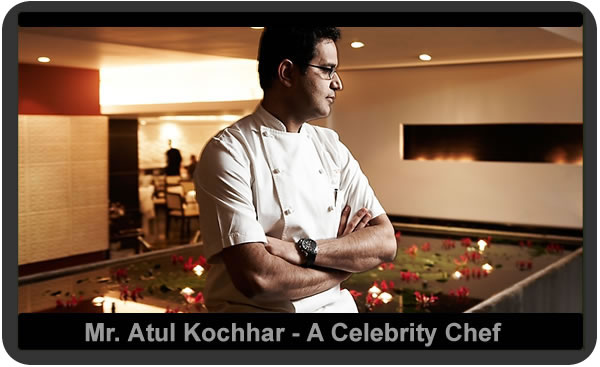 Atul is also heavily involved in children's charities- manly Barnardo's, Great Ormond Street Hospital and Save The Children, to name just a few. He has an overwhelming passion to support under privileged children and continues to work closely with these charities and many other children's Charities. Atul is also proud to be an Ambassador for Find Your Feet, a small charity that supports some of the poorest families to build a better future. An active Ambassador, since 2007 Atul has visited FYF's vital work in India and hosted fundraising dinners that have raised over £35,000; helping thousands of families in his homestate of Jharkhand, and throughout northern India, out of hunger and poverty.
Atul's recipes have appeared in magazines and newspapers wildly across the world, and he demonstrates regularly on food shows in the UK and abroad. He lives in west London with his wife Deepti and his young son and daughter. In addition, most recently, he was personally invited to meet the Queen during a State visit of The President of India. Along with being invited to cook for Prince Charles at St James' Palace during April 2010. It appears he is unstoppable in his ability to conquer new and inspirational Indian dishes and continues to thrive with some very exciting future projects ahead of him.
He also received his Honorary Doctorate Degree from Southampton Solent University in November 2010.
Join Atul Kochhar as he creates the most unique and tastiest dishes!
Delicious cuisine from the sub-continent like you've never seen it before.
Learn how to make the most mouth-watering cuisine in each show!
Recipes that will leave you hungry for more!
CURRY ON!... Only on B4U!